We're here to help, and we aim to make it as simple as possible!
If you're looking for additional support when onboarding, check out our Support Packages to make the transition as seamless as possible. We also offer additional integration services if your space already uses or would like to use further integrations that the platform currently supports, fees for these are below. If you have a complex space, or run a number of sites and are looking for a custom solution we can tailor a package for you. Just get in touch with our team.
Browse the below to understand our Support Package inclusions and find the fit that's right for your space.
Each one of our subscription packages comes with the following support to ensure you can get up and running as quickly as possible.
If you need further assistance you can purchase the below add ons:
We offer a full implementation service. This will ensure your space is expertly set-up on the Hamlet platform and your team is supported with all the training they need.
Each additional location will be charged at $600. For example if you have two locations, the total Implementation Package cost would be $1,800. *Assistance with integrations will be provided if the application is listed as an approved application on the following list:
*Integrations included in standard subscription costs:
Approved integrations that will incur a separate fee of $1,000 per integration :
| FEATURES | All Subscriptions | Implementation Package |
| --- | --- | --- |
| 2-hours of onboarding calls. Choose how you would like to use these, from the basic steps of set-up, a deep-dive on billing, to a training call for your community managers. | | |
| Unlimited email support via our help portal queue | | |
| Access to help documentation | | |
| 5-hrs of support calls to get you through the entire onboarding process | | |
| Billing configuration | | |
| Data imports - including members and XERO account details | | |
| Booking and resources configuration | | |
| Template customisation - select 6 email templates to set-up | | |
| Integration assistance for current applications* | | |
| 2-hour staff training call for up to 5 members | | |
| Contract e-sign set-up | | |
We're ready to assign and solve your support requests!
Once you're set-up on the Hamlet platform you can quickly report any bugs, raise a support ticket or send any feedback via the platform.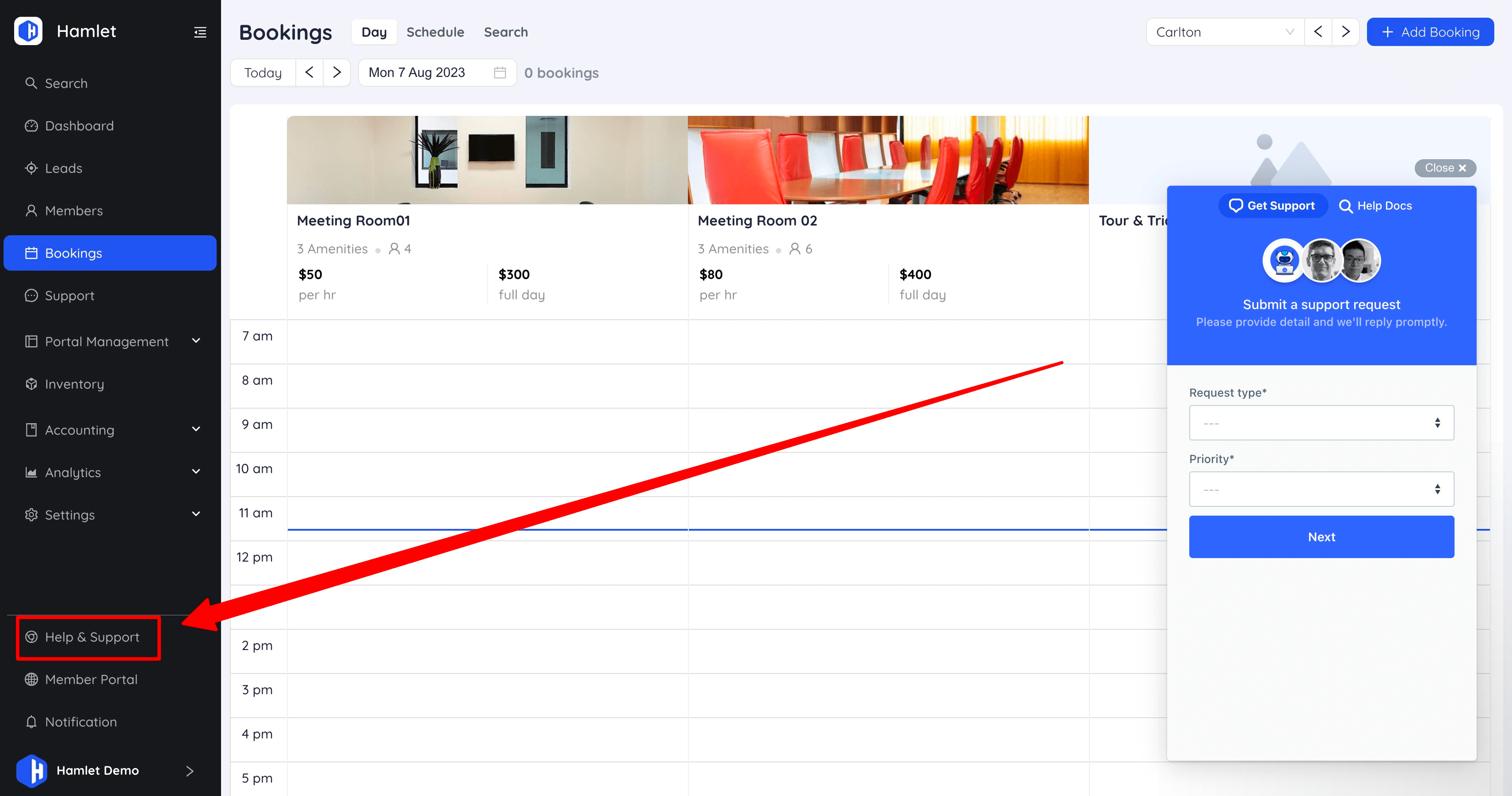 Steps to raise a support request in Hamlet.
Click on the 'Raise Issue' button that is located in the top right corner of the Hamlet portal screen. This will pop open a support window.
Select the request type, and chose from the below priorities:
Urgent – Critical issue that is preventing the platform from functioning and you are unable to find a solution to continue operations
High – An issue that is restricting the use of the platform but it still remains operational
Normal – Questions on features or functionality and issues that are not time sensitive.
Provide a short title and description of your request, along with any attachments to help us understand the nature of the issue.
Submit your request and we'll be in touch as soon as possible.
If at any time you cannot access your Hamlet Portal to raise a support ticket send an email to support@hamletapp.co with details of your support request.